Denver offers a premier mixture of natural beauty and urban amenities. There are many great neighborhoods for those interested in Denver real estate, and notable suburbs for Denver luxury homes include Westminster, Broomfield, Cherry Creek, Hilltop, Arvada, and LoHi.
The trick, of course, is figuring out which of these great neighborhoods is right for you. That'll depend on whether you're a busy professional looking to be close to downtown or a growing family searching for excellent schools in a vibrant neighborhood. If you're feeling overwhelmed by the process, 
an experienced Denver realtor
 can guide your search with detailed local insights.
If you partner with 
Grant Muller and his team of local real estate experts
, you can trust they'll listen to your needs, desires, and concerns—and help you narrow down your choice of Denver luxury homes. The great thing about Grant and his agents is that they're uniquely active in their communities and are longtime Denver residents themselves.
The Denver real estate market
Through many ups and downs, including Denver's recent rise in popularity, 
Grant Muller
 and his team have had their finger on the pulse of the rapidly changing Denver real estate market. Even with 
rising interest rates in 2022
, the Denver real estate market remains hot. Grant and his agents will work hard to find the best deal possible to get you into an excellent home in the right neighborhood for you.
Westminster
Westminster
 is a beautiful suburb just northwest of Downtown Denver. With a population of about 116,000, it's perfect for young families searching for a nice house with room to grow. Residents love the ample home sizes and outdoor spaces, which perfectly fit the Denver lifestyle. Westminster offers highly rated schools and plenty of shopping and dining, anchored by 
the Orchard Town Center
. Westminster is home to the Adams County Fair and the Jazz & Arts Fest. Active families enjoy the many parks, golf courses, and miles of hiking trails, including the popular 
Big Dry Creek Trail
.
Westminster is conveniently located between Denver and Boulder. Owners of Westminster luxury homes can enjoy the best of both cities, whether it's cheering for your favorite local sports teams or enjoying the various cultural, arts, and entertainment events. It's also a short drive from a long list of great ski resorts.
Broomfield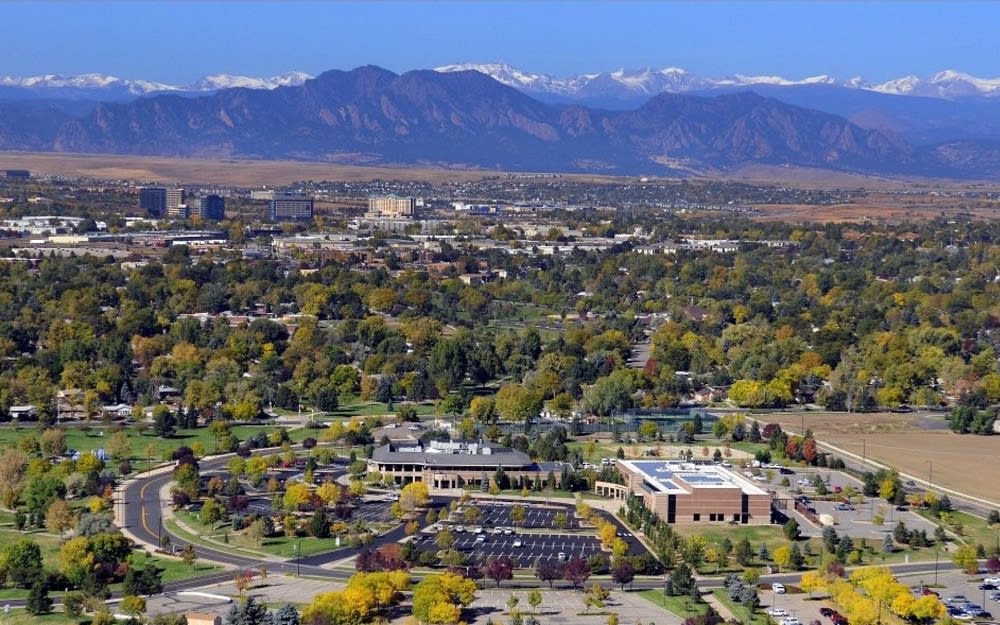 Photo Courtesy of Foresite Group
Broomfield
 is an upscale community of about 68,000 located north of Westminster. It's roughly 20 minutes from both Boulder and Denver, putting its residents near all the great amenities offered by the two cities. Broomfield is large enough to provide everything residents need while exuding a unique small-town feel that makes it attractive to professionals and families.
Broomfield has an astounding number of parks and green spaces, estimated at 8,000 acres, and includes miles of trails for hiking and biking. In the summer, it's just a short drive to whitewater rafting and kayaking on nearby rivers, and in the winter, it's a quick jaunt to some of the best skiing and snowboarding in the state.
The 1stBank Center
 brings sporting events as well as concerts to the area. Like Westminster, Broomfield residents are close to all the sports action and natural beauty of Boulder and the urban amenities of Denver.
Cherry Creek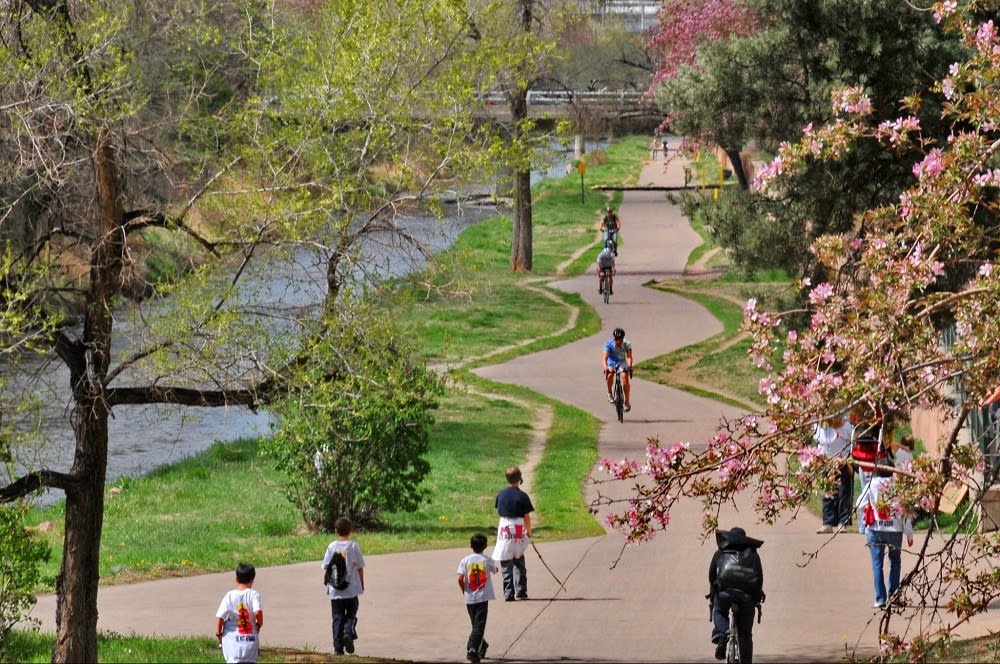 Cherry Creek
 is a small, affluent neighborhood southeast of Downtown Denver that offers a quiet, comfortable lifestyle. The population of just under 13,000 reside in some spectacular Denver luxury homes.
Despite its small size, Cherry Creek is one of the premier destinations in the entire Denver metro area for shopping and dining in its large commercial district. The centerpiece is the Cherry Creek Mall right along Cherry Creek, which houses upscale fashion boutiques, fine dining, and top department stores. The rest of the business district is home to locally owned businesses, cafés, bars, and a few premier art galleries. Residents looking for some exercise can head to the Cherry Creek trail for hiking and cycling.
Hilltop
Hilltop
 is another small, well-to-do neighborhood offering Denver luxury homes with nice yards and tree-lined streets. It's a community of about 9,000 residents located just east of Cherry Creek and is almost exclusively residential. Hilltop is popular with affluent professionals and young families who enjoy going to the many parks for exercise and enjoying the outdoors.
Arvada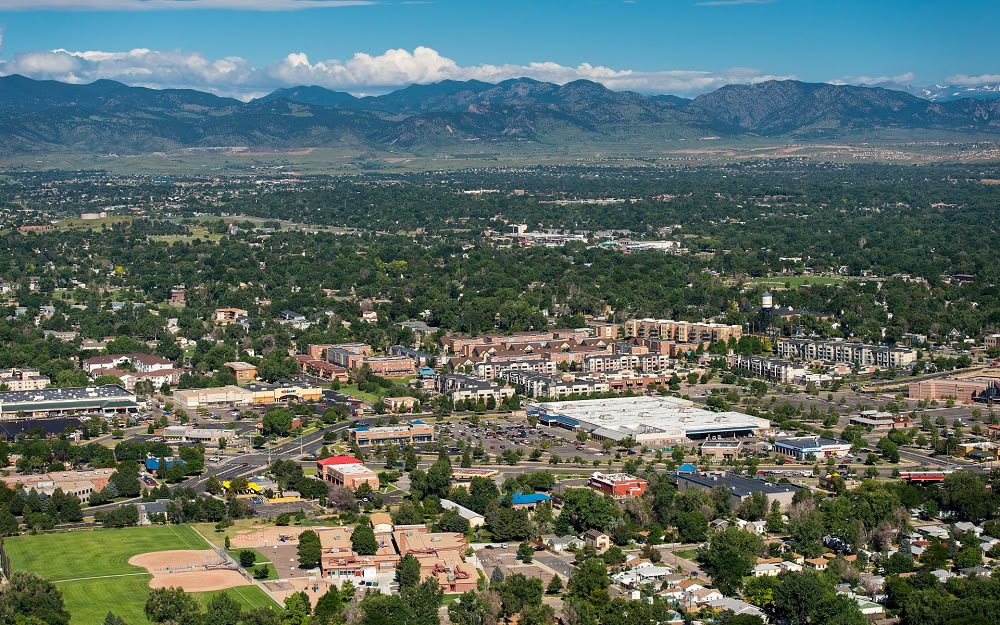 Arvada
 is a sprawling city of nearly 125,000 residents on the western edge of the Denver metro. Rich with history and a variety of real estate options, Arvada is regarded as a beautiful place to buy. Arvada was an important figure in the development of the Colorado Central Railroad, and its neighborhoods range from historical to luxurious, including golf course living. It has many parks and easy access to outdoor recreation beyond the city.
LoHi
Part of the Denver Highland neighborhood, LoHi is located just across highway I-25. According to Forbes, it's ranked as the "17th Best Hipster Neighborhood in the Country," featuring dozens of festivals throughout the year, eclectic bars and restaurants, and the third-highest number of coffee shops per capita in the state.
An artsy district that bursts with diverse opportunities and live music around every corner, living in LoHi ("The Lower Highlands") offers residents vibrant energies and unique experiences. LoHi is a family-friendly area, home to dozens of well-maintained parks in a walkable community. Enjoy a drink on a rooftop bar and make a local coffee shop part of your go-to morning routine: you'll find it all in LoHi!
Are you searching for Denver luxury homes for sale?
When you're ready to start looking for Denver homes for sale, let the local luxury experts at the 
Grant Muller Group
 show you around town! 
Contact Grant today
 to begin your next real estate adventure in one of these thriving Denver neighborhoods.
*Header photo Courtesy of Pods